AffiAB® 2-hydroxyisobutyryl-HIST1H4A - K12 Polyclonal Antibody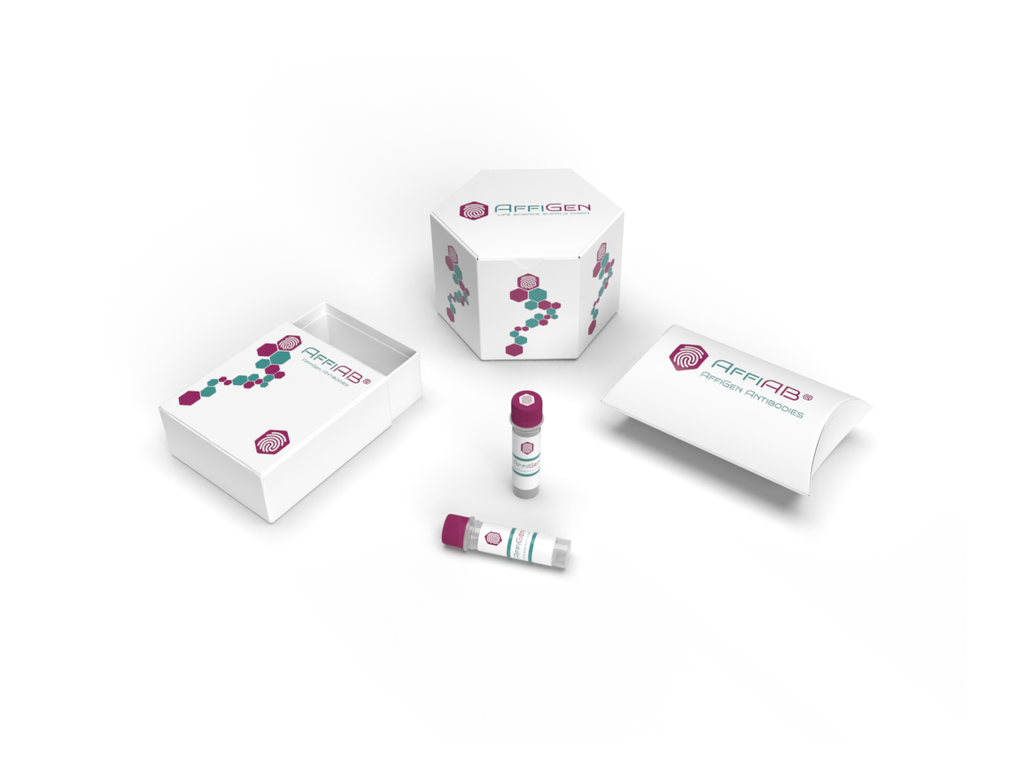 AffiAB® 2-hydroxyisobutyryl-HIST1H4A - K12 Polyclonal Antibody
CAT# AFG-PAB-06862
Size: 100 µL
Conjugation: Unconjugated
Available Conjugations

Contact info@affigen.com for pricing

AffiAB® anti 2-hydroxyisobutyryl-HIST1H4A - K12 Magnetic Beads Conjugated
AffiAB® anti 2-hydroxyisobutyryl-HIST1H4A - K12 FITC Conjugated
AffiAB® anti 2-hydroxyisobutyryl-HIST1H4A - K12 Biotin Conjugated
AffiAB® anti 2-hydroxyisobutyryl-HIST1H4A - K12 AF350 Conjugated
AffiAB® anti 2-hydroxyisobutyryl-HIST1H4A - K12 AF405M Conjugated
AffiAB® anti 2-hydroxyisobutyryl-HIST1H4A - K12 AF488 Conjugated
AffiAB® anti 2-hydroxyisobutyryl-HIST1H4A - K12 AF555 Conjugated
AffiAB® anti 2-hydroxyisobutyryl-HIST1H4A - K12 AF568 Conjugated
AffiAB® anti 2-hydroxyisobutyryl-HIST1H4A - K12 HRP Conjugated
AffiAB® anti 2-hydroxyisobutyryl-HIST1H4A - K12 AF405S Conjugated
AffiAB® anti 2-hydroxyisobutyryl-HIST1H4A - K12 AF405L Conjugated

AffiAB® anti 2-hydroxyisobutyryl-HIST1H4A - K12 AF546 Conjugated
AffiAB® anti 2-hydroxyisobutyryl-HIST1H4A - K12 AF594 Conjugated
AffiAB® anti 2-hydroxyisobutyryl-HIST1H4A - K12 AF610 Conjugated
AffiAB® anti 2-hydroxyisobutyryl-HIST1H4A - K12 AF635 Conjugated
AffiAB® anti 2-hydroxyisobutyryl-HIST1H4A - K12 AF647 Conjugated
AffiAB® anti 2-hydroxyisobutyryl-HIST1H4A - K12 AF680 Conjugated
AffiAB® anti 2-hydroxyisobutyryl-HIST1H4A - K12 AF750 Conjugated
AffiAB® anti 2-hydroxyisobutyryl-HIST1H4A - K12 APC Conjugated
AffiAB® anti 2-hydroxyisobutyryl-HIST1H4A - K12 PE Conjugated
AffiAB® anti 2-hydroxyisobutyryl-HIST1H4A - K12 AP Conjugated
AffiAB® anti 2-hydroxyisobutyryl-HIST1H4A - K12 Cy Conjugated
​AffiAB® 2-hydroxyisobutyryl-HIST1H4A - K12 Polyclonal Antibody
Immunogen

Peptide derived.

Gene Aliases

Histone H4, HIST1H4A, H4/A, H4FA, AND, HIST1H4B, H4/I, H4FI, AND, HIST1H4C, H4/G, H4FG, AND, HIST1H4D, H4/B, H4FB, AND, HIST1H4E, H4/J, H4FJ, AND, HIST1H4F, H4/C, H4FC, AND, HIST1H4H, H4/H, H4FH, AND, HIST1H4I, H4/M, H4FM, AND, HIST1H4J, H4/E, H4FE, AND, HIST1H4K, H4/D, H4FD, AND, HIST1H4L, H4/K, H4FK, AND, HIST2H4A, H4/N, H4F2, H4FN, HIST2H4, AND, HIST2H4B, H4/O, H4FO, AND, HIST4H4

Antibody Type
Polyclonal Antibody

Purification
Affinity Purified

Tested Applications

ELISA, WB, ICC, IF, IP, ChIP
Your Dynamic Snippet will be displayed here... This message is displayed because you did not provided both a filter and a template to use.